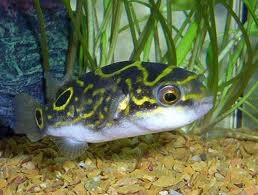 Figure 8 Puffer (Tetraodon biocellatus)
---
Origin: Freshwaters of Southeast Asia
Adult Size: up to 2.5 inches (6 cm)
Social: Aggressive, best kept alone
Lifespan: 5 years
Tank Level: Mid, bottom dweller
Minimum Tank Size: 15 gallons
Diet: Live foods, prefers snails and shells
PH: 7.0 - 7.5
Temperature: 72 - 79 F
Comments: Puffers have two pairs of teeth, each of which are fused together giving it a beak-like appearance. This unusual arrangement of teeth gives it the ability to crush hard materials such as the shells of crustaceans. These teeth grow throughout the life of the Figure 8 Puffer, and must be ground down to keep them from being too long. For this reason, they need hard-shelled foods to help keep their teeth the proper length.